CORONAVIRUS DISEASE (COVID-19) PANDEMIC
Video recorded on 10 August 2020.
This is a rapidly evolving situation that International SOS is monitoring closely.
We advise all organisations to continue to monitor this pandemic, proactively communicating with your people to explain the ways to prevent infection, review and implement your plans for pandemic and other infectious disease outbreaks.
Existing International SOS employees - please use the Assistance App to access our latest alerts.
The Impact on Global Mobility During COVID-19 and Beyond
Video recorded on 10 June 2020.
Advice on Staying Productive While Working Remotely
Video recorded on 19 March 2020.
Novel Coronavirus (COVID-19) situation (World Health Organisation)
CLICK HERE for a detailed map on the number of both imported/locally-acquired cases

CLICK HERE for a detailed map on restrictions, flight operations and screening
How can International SOS help?
Frequently asked questions:
Can International SOS provide accurate and timely information on COVID-19 and/or tools to help me communicate and educate my workforce?
Our Site Monitor tool provides you with operational information on the status of the pandemic and automated email alerts when your defined work locations are under threat.
Information is maintained 24/7 by medical experts with extensive experience in previous outbreaks including: Ebola, Zika virus, plague, SARS, bird flu and the H1N1 2009 pandemic influenza.
You also have access to: pre-scripted and customisable communication materials, posters, procedures, presentations, planning tools, and other resources.
Templates are maintained by our experts – so if advice and protocol change, updates are made for you.
Coronavirus awareness digital learning course - highlights:
This and tens of other essential education topics are available to you and your people via our Employee Risk Digital Learning solution.
Can you also provide additional advice from a medical expert to quickly review and/or implement COVID-19 plans and procedures?
Our expert medical advisors can help you quickly review and implement your plans and procedures.
Site Monitor can also be utilised to store your new policies and procedures – giving you ease of regular maintenance, communication, and dissemination to your workforce.
Can an International SOS senior doctor act as a health advisor to my organisation?
Our team of doctors can act as expert medical advisors: working with you to review your plans and procedures, and support your crisis teams, so you are prepared for every eventuality: including outbreak preparedness and evacuation planning.
Advisory services and personalised situation analysis can be provided virtually or in person.





International medical evacuations
International SOS is highly experienced in evacuating patients with infectious disease, having safely transported numerous infectious patients around the world. As such, International SOS has the medical and technical capability to undertake international evacuation of patients with COVID-19 infection, however our experience in such circumstances is that the feasibility of doing so is dependent on the authorisation of governmental, health and aviation authorities. Therefore there may be a significant lead-time to confirm the feasibility of such evacuations as these variables are beyond our control. We are in close contact with local Health authorities, the World Health Organization (WHO), Centres for Disease Control and Prevention (CDC) and European Centre for Disease Control and Prevention (ECDC), and relevant Civil Aviation Authorities with respect to ongoing developments.
IN THE NEWS: protecting & saving lives on the front line
Dr Klein, a consultant at the Wuhan Union Hospital, speaks to ECNS (the official English-language website of the China News Service), about his experience providing medical services in Wuhan since the start of the COVID-19 outbreak.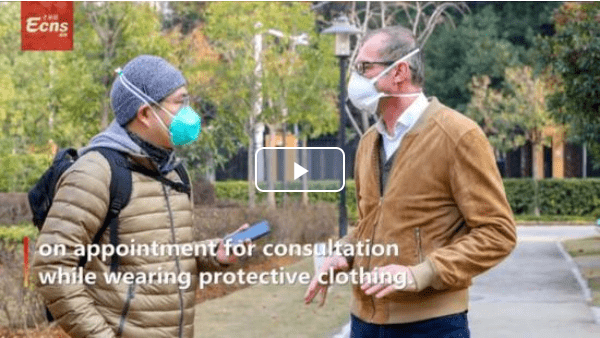 Dr Klein works for a French subsidiary (AEMC) of the International SOS Group and is currently seconded to work as a consultant in the international clinic at the Wuhan Union Hospital (on behalf of a client). AEMC has a joint venture with the Wuhan Union Hospital.
access THE LATEST information
Our coronavirus disease (COVID-19) website has sections which are freely available (including locations with confirmed cases and frequently asked questions), as well as sections for our members. Subscribers have access to all areas.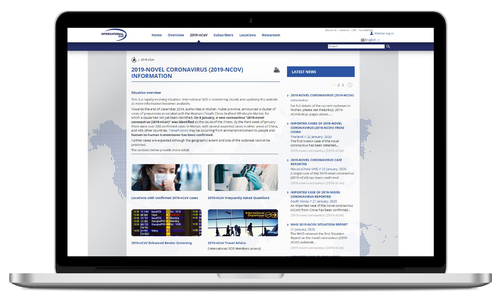 in the news: organisations being supported by international sos
International SOS is supporting thousands of organisations around the world during the COVID-19 outbreak. Click here to read a selection of examples documented in the news.